I am feeling really good this morning. I finally--FINALLY--got a full night's sleep. This may seem odd, but I can't remember the last time that I wasn't awake for at least and hour or two in the middle of the night. I also went to bed at 8 p.m. last night, so I'd say I was to the exhaustion point.
Let's get on to why I'm here today:
Too many of us base our success just on the number we see on the scale, but there is so much more to it! All the little changes we make are helping us make a healthier lifestyle. Whether you lost weight this week or not, let's celebrate your non-scale victories! So whether you said no to that birthday cake in the office, ran a 5k, or tracked your food every day this week. . . it is time to celebrate!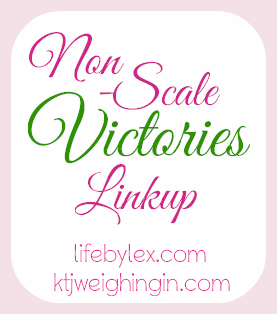 I can't say that I've been doing much of anything different this week, but that is a good thing. I'm staying the course and working harder in my workouts. I'm getting in my cardio of 3.5 miles on the elliptical and Cardio Boxing with TRX three times a week. I think I'm going to have to increase my cardio soon. I try to get my cardio done in 35 minutes, but I believe it would be beneficial to up that at least 15 more minutes with intervals on the treadmill.
I was on a roll for about a week with MFP, but it seems I've fallen off the wagon again. How can it be so hard to track everything in one place? I feel like if I can keep on track, then that's the best victory of them all.
How has your week been?
Happy Lil' Friday, y'all!
xoxo,
Laurie