What a busy week it's been around here. I've been so busy at work that I have hardly had time to read all the blogs that I link up with during the week. Our pool is opening this weekend, but--of course--it's going to RAIN all weekend. I hope to see the sun a little bit, but at least the next two weeks are short work weeks.
Today is all about what makes me happy and I also incorporate my gratitude, too. This is a great link up with Kenzie at Chasing Happy. I invite you to join us!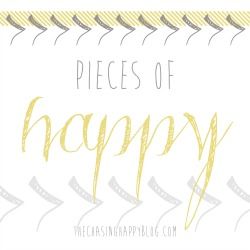 What makes me happy this week:
* I have a job I love, co-workers I love, and a boss I love.
* My husband--he power-washed the patio and it is now perfect for relaxing in the afternoon.
* My father-in-law for letting me borrow a car while mine has been in the shop all week.
* The wonderful bloggers that share their stories with me, make me laugh, and keep me motivated.
* My family--our Mother's Day dinner was fun, chaotic and yummy.
* My brother--he has a the biggest heart and is such a kind person. His thoughtfulness made me smile this week.
* I have a roof over my head and food in my pantry.
* My doggies
* Meg--I don't know how we made it through the winter without our 3-mile therapy sessions!
* The sunshine--we've had a week full of sun!
* Music--music gets me through my day. I listening to music ALL day while I'm at work and it just keeps me motivated. I guess my co-workers are lucky I'm not putting on my own Karaoke concert in my cube. LONG LIVE ROCK-N-ROLL!
What are your Pieces of Happy?
Okay, so if you read my blog on Wednesday, you know I'm soliciting votes for my friend, Kate. Please go and vote for her. You can vote daily and there are only 4 more days. You can vote
HERE
. Thanks!
Happy Friday, y'all!
xoxo,
Laurie