*believes in love
*has a uniform for winter that consists of a turtleneck, fleece pullover and yoga pants or jeans
*in the summer I trade the turtleneck and fleece for Polo shirt.
*prefers running shoes or flip flops
*will take Miller Lite over any high dollar beer
*tells it like it is
*knows it's only rock and roll, but I like it
*believes in family first
*treats my dogs like my children...hello, they are my children.
*is happier at the beach no matter what the season

*believes in friendship
*is a planner
*thinks nothing of spending the day in my pajamas

*loves to bake
*has a huge sweet tooth (chocolate, you sexy siren)
*keeps in touch with old friends (mostly through Facebook)
*likes to write letters to friends--it's the old fashioned way and everyone loves mail!
*is an avid reader of BOOKS, not via an ereader (though lately I've been thinking about it)
*likes to run, but not really. I love how exercise makes me feel, but I am lazy
*loves Family Guy
*can name that tune in three notes (rock & roll and 80's)
*will put on a full blown concert in the car on my way to or from work

*likes to doodle whenever I can--note the doodle in my work notebook above
*is a pretty decent snow skier
*loves ACC basketball (Go Pack!)
*will watch soccer on TV anytime (will take MLS, but c'mon--ManU, baby)
*doesn't go to the movies unless forced, but will watch the same movie on TBS over and over all weekend
*strikes up conversations with strangers in the grocery or other places

What type of girl are you?
Link up and meet more girls just like you!
(the link up was Tuesday, but I didn't find it until Thursday night)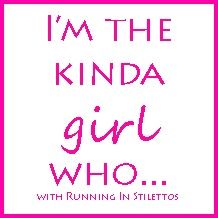 Happy Friday!
xoxo,
Laurie