What can I say? I'm thrilled that it's Thursday! The weekend is almost upon us and I am ready. Fall is here. Pumpkin Spice Coffee Mate is in my morning coffee. College Football is in full swing. I love summer so much, I forget how much I love fall, too.
Well, let's get on to the real reason we're here today.
Too many of us base our success just on the number we see on the scale, but there is so much more to it! All the little changes we make are helping us make a healthier lifestyle. Whether you lost weight this week or not, let's celebrate your non-scale

victories! So whether you said no to that birthday cake in the office, ran a 5k, or tracked your food every day this week. . . it is time to celebrate!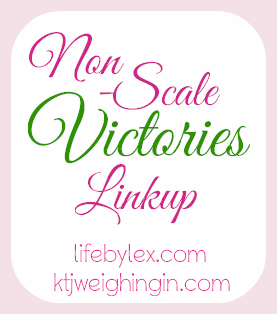 My success this week is getting to three Cardio Fuel classes so far. There's another one tomorrow that I plan to attend. I went to a class Monday after work. I think I'd go back again, but I would still want to get my cardio in first thing in the morning. There's something about getting my endorphins first thing in the morning that makes my whole day right. Even though I don't hurt like I did last week, I still have sore muscles. I still feel like a TRex. I have realized that if I want the shoulders I talk about all the time (Dana Beach arms--if you know Dana, you know what I'm talking about), then I need them to feel the fatigue they feel right now. Seriously though, I feel GREAT!
My other success this week is FINALLY ordering my new running shoes. I've needed them for so long that I haven't been running outside at all. They should be here early next week! My friend, Joe, has been inspiring me to get back to running. He's running the Marine Marathon (I'm not sure that's the right name) at the end of October. We were talking about it yesterday and his training has been amazing. I hope to get out there with my sister next week. She and a friend are running at night and I believe I want in on that action!
My eating is getting better, but I did have one of the best burgers of my life for dinner. Good thing I didn't eat much during the day yesterday. My goal this week is to get my diet back on track and do more food planning.
How has your week been?
Happy Lil' Friday, y'all!
xoxo,
Laurie