Another short work week for me and I don't feel like I have enough time in the week to get everything done. I am glad to be busy, though, so I will not complain. No time to work late this week so I'll have to do what I can to get in early and another week missing my 6 a.m. class at the gym.
Let's get on to why I'm here today:
Too many of us base our success just on the number we see on the scale, but there is so much more to it! All the little changes we make are helping us make a healthier lifestyle. Whether you lost weight this week or not, let's celebrate your non-scale victories! So whether you said no to that birthday cake in the office, ran a 5k, or tracked your food every day this week. . . it is time to celebrate!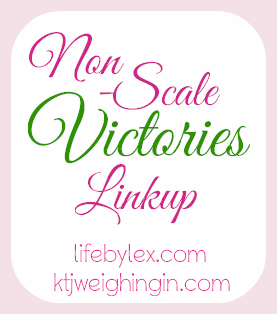 I hope everyone had a great Thanksgiving. I had my first healthy Thanksgiving. I still ate all the yummy food, but I made sure I got my 3.5 miles and Cardio Boxing in before I ate. The result? Not a pound to show for the holiday. This has to be a first that I didn't gain, but even lost a pound. It may not be an NSV, but it was the best thing to happen to me all week.
Three weeks until Christmas and I'm hoping to attack this holiday the same way--healthy and happy. It's going to be hard. There is a ton of chocolate around the office (my weakness), but I'm really gung-ho with my Cardio Boxing class. We have a fun class and my regular gals are tough and really love it like I do. I also have been more active on my MFP. Not perfect, but showing up.
What have you been doing for yourself?
Happy Lil' Friday, y'all!
xoxo,
Laurie